ENEPIG as a Surface Finish
PCB surface finish is a crucial component of an assembled board as it will prevent the copper traces, pads, and soldering from oxidation; it is a vital ingredient to high-level application performance.
Most modern surface finishes are lead-free in accordance with RoHS and WEEE directives; one of those is ENEPIG or Electroless Nickel Electroless Palladium Immersion Gold.
What is ENEPIG?
ENEPIG is not a new surface finish; first introduced in the late 1990's, its market acceptance was hampered due to volatile palladium metal pricing around the 2000's. Recently as the price of gold had risen, the price of palladium had remained more stable, ENEPIG has become more widely accepted as it meets the new packaging reliability needs and meeting RoHS mandates.
ENEPIG is similar to ENIG in both utilize electro-less nickel on top of copper plating; the difference is while ENIG has gold deposited directly on top of nickel, ENEPIG has an additional layer of palladium between the nickel and final gold layer (see below Fig. 1).
Copper
Nickel
Palladium (absent in ENIG)
Gold
Fig. 1: The added layer of palladium helps protect the nickel layer from corrosion.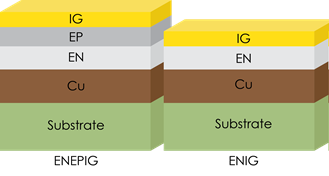 Advantages of ENEPIG over ENIG
ENEPIG finish is capable of ultra-demanding requirements with multiple package types, through-holes, SMT, BGA, wire bonding, and press fit. ENEPIG is frequently requested for applications requiring wire bonding as it demonstrates high wire bond pull strengths: aluminum wire up to 10g, gold wire up to 8g.
It is also a very thin PCB finish (between 0.05μm and 0.15μm), making the assembly and soldering process more simple and reliable. ENEPIG also shares similar benefits to ENIG in that it has a long shelf life due to its durability and resistance from tarnishing.
Other advantages of ENEPIG over ENIG include:
Helps to prevent "Black Pad": no possibility of grain boundary corrosion of nickel surface by immersion gold
Good for Touch Contact / Push Contact (no corrosion risk after assembly)
Higher Reliability Wire Bonding than ENIG (vastly preferred for gold wire bonding over ENIG)
Lead Free & RoHS Compliant
Long Shelf Life (akin to ENIG, >12 months)
Multiple Reflow Soldering Capability
Flat Surface - Excellent for Solderability
Great for Plated Holes and Fine Pitch / BGA / Small Components
Great for High Density Assemblies
Great for Mixed Package Technologies
Great for High Performance Devices
Suitable for conductive adhesives: your CM can install components without the use of solder
Considerations of using ENEPIG over ENIG
When comparing ENIG to ENEPIG, ENIG can be more cost-effective due to the absence of palladium. However, ENIG cannot be used in all of the applications where ENEPIG may be used, particularly when gold wire bonding application is required.
Fig 2: Direct Comparison of ENIG, ENEPIG, and Immersion Silver
| Characteristics | ENIG | ENEPIG | Immersion Silver |
| --- | --- | --- | --- |
| Shelf Life (Controlled conditions) | >12 Months | >12 Months | >12 Months |
| Handling / Contact with Soldering Surfaces | Should be avoided | Should be avoided | Must be avoided |
| SMT Land Surface Planarity | Flat | Flat | Flat |
| Multiple Soldering Cycles | Good | Good | Fair to good |
| No Clean Flux Usages | No concerns | No concerns | No concerns |
| Solder Joint Reliability | Good process control required to avoid "black pad" | Good | Interfacial microvoid concerns |
| Gold Wire bonding | No | Yes | No |
| Electrical Test Probing | Good | Good | Good |
| Corrosion Risk After Assembly | No | No | No |
| Contact Surface Application | Yes | Yes | Yes |
| Total Coating Thickness(micron) | u 0.08 - 0.13 Ni 3.0 - 6.0 | Soldering: Au 0.03 - 0.05 Pd 0.05 - 0.1 Ni 3.0 - 5.0 Wire bonding Au 0.07 - 0.15 Pd 0.1 - 0.15 Ni 3.0 - 5.0 | 0.05 - 0.5 typical |
ENEPIG at PCB International
PCB International offers all previously mentioned soldering finishes (ENIG, ENEPIG, Immersion Silver, etc.). Our handy Online Quote Engine offers instant pricing for ENIG and Immersion Silver.
For all ENEPIG plated Printed Circuit Boards, PCB International strongly recommends that our clients send us their board requirements and Gerber files for review. Request a custom quote here or simply email your design files to us at support@pcbinternational.com for a free quote. We're always glad to help!